This past Monday Houston Design Thinking Workshop kicked off with an informal meet and greet at Station Houston.  The happy hour started with an introduction about the 6-week long design course by instructors Dr. Hesam Panahi and Dr. Matthew Wettergreen followed by personal introductions from attendees. A wide range of ages and backgrounds were represented—from university students to lawyers to HISD teachers—but one thing was common: a desire to learn the design process and apply it to real Houston-centered projects.
After initial introductions the floor was open for mingling and beer. Attendees and instructors chatted for the following two hours about their backgrounds and approach to design. When time was up contact information was swapped and attendees parted ways.
The showing at the initial meet and greet was very encouraging and we are excited to see how this first session of the Houston Design Thinking Workshop unfolds! All 20 positions for the first cohort have been filled. On Thursday participants will dive straight into the design process and form teams. Look forward to future blog posts as they progress!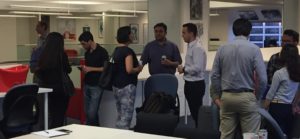 Special thank you to all attendees, to Buffalo Bayou Brewing for beer, and to Station Houston for hosting this event!